Residential
Services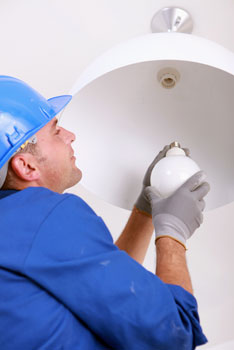 L & J Electrical Contractors is fully licensed and insured with extensive electrical knowledge in all aspects of residential projects. We know that each residential project is unique so we tailor our services to meet the needs of each homeowner. We strive to provide our customers with "Quality Electrical Work at Prices that Won't Shock You" and provide assurance to our customers by installing safe and functional residential electrical services.
The electrical services in your home are essential to the convenience of the homeowner, L & J can provide you with any electrical service you need no matter how large or small the project. We offer full electrical services for all your new construction or renovation needs.
Increase the value and most importantly the safety of your home by upgrading your electrical system. Electrical home improvement is an investment in your home and your lifestyle to make your home more inhabitable and safer for your family. Electrical upgrades and/or improvements can improve and beautify your home, protect your family and they may help save you money and energy.
What
We Offer
Protect your home and family by ensuring your home's electrical wiring is done correctly.
Contact Us today for to set up an appointment for a free estimate. We offer many different services.
New Construction
24 Hour Emergency Repairs
Renovations
Code Updates and Corrections
Electrical Service Upgrade
Property Maintenance
Electrical Sub Panels
Indoor
Electrical
Below we have listed all of the services we offer for the inside of your home, we can take care of all your home electrical needs with quality electrical work that won't shock you!
A/C Wiring
Accent Lighting
Attic Fans
Audio/Video Installation
CAT5 and CAT6
Ceiling Fans
Child Proof Outlets
Circuit Breaker Replacement
Data/ Audio Video Wiring
Energy Efficient Lighting Solutions
Exhaust Fans
Flat screen TV Installations
Floor Heating
GFI Outlets
Heat Pumps
Indoor/Outdoor Speakers
Infra red technology
LED Lighting
Light Fixture Installation
Lighting Retrofits
Lighting Timers
Low Voltage Lighting
Outlets/ Switches
Phone/Cable Jacks
Recess Lighting
Replacement of knob and tube wiring
Smoke / Carbon Monoxide Detectors
Surge Protection
Theater/Surround Sound Systems
Standard Thermostats
Programmable Thermostats
Under Cabinet Lighting
Wall and Floor Mount Heaters
Outdoor
Electrical
Below we have listed all of the services we offer for the inside of your home, we can take care of all your home electrical needs with quality electrical work that won't shock you!
Decorative Lighting
Door Bells
Generator Systems
Holiday Lighting
Landscape Lighting
Motion Sensor Lighting
Motorhome/Camper
Outdoor Circuits
Out Building Electrical Needs
Outdoor electrical Outlets
Pool and Spa circuits
Programmable Lighting
Security Lighting
Well Pumps
Attention
Builders
We are also a recognized leader in the wiring of new residential homes and multi-family communities, L & J Electrical Contractors works closely with homebuilders and general contractors to deliver complete customer satisfaction. From the largest home to the smallest, L & J Electrical Contractors meets the challenge with unsurpassed expertise.
Attention
Realtors
Every agent and seller wants the home to sell or rent fast and bring top dollar and we know it's not luck that makes that happen. It's careful planning and knowing how to professionally spruce up a home that will send home buyers and renters scurrying for their checkbooks. Your job as a real estate agent is to advise the client on how to prep a house and turn it into an irresistible and marketable home.
Preparing for the rental, sale or the purchase of a home often incurs a "punch list" and many times electrical work is included on that list, that's where we come in.
L & J Electrical Contractors provides skilled Service, Repair and Maintenance of all Residential Electrical Systems